Halaman
1
dari
1
•
Share
•

El Corona is known to be home of many Hispanic gangs, gangs such as 18th Street, Mara Salvatruha 13, and small Sureno cliques have inhabited the area. The Aztecas in El Corona started off small ranging from 5-10 members, at first they weren't affiliated with the Aztecas gang at all, they were just a group of teenagers conducting violent activities. They had beef with all of the other Hispanic gangs in El Corona. Their violent activities and hatred towards the other gangs in E.C. brought the attention of the Aztecas 13 gang in Los Santos. The Aztecas supplied the group with weapons and ordered them to get rid of as many of their rivals in El Corona as possible. It was not an easy task, the group went from 10 members down to 5 members. Most of the members ended up dead or in prison. The ones who survived however were then awarded by the Aztecas.
Birth of Southside Locotes 13 - 2010 (Juan Estevez's era)
Southside Locotes 13 is one of the oldest in the Mexican gang JG:RP. Faction was first founded at JG: RP by Juan Estevez in 2010 and became the first official faction in the server JG: RP at the time. And quite a major contribution will be life roleplay JG:RP. And since it's also El Corona began bustling would gangster activity. Juan Estevez era lasted about 1 year old. IRL activity that causes them to disperse. Since the era of Juan Estevez ending, the triumph southside Locotes 13 indirect extinguished. From year to year the Hispanic faction began alternately filling the area El Corona. With the same vision that is introduced El Corona as a regional real gangster. As well as to continue the long history there. one of this era also participated in the new era
Reborn - 2014 (Jimmy Pueblo's era)
Locotes 13 was stopped a few years, until the baton was passed by Jimmy Pueblo, jefe of Surenos Southside 13 in 2015. Flaco, nicknamed El Corona managed to bring to the peak of its glory along with Lucas Alejandro Raul Saldivar and that helped, which Roleplay creative they delivered, and managed to become official. In this era, Jimmy Pueblo able to maintain faction for approximately one year, until they make the turn into a mafia roleplay. However, shortly after the South Side Jimmy Pueblo era ended. Comeback again many faction Hispanic with theme and the same name, although not up to the level of officials. one of this era also participated in the new era
Southside Aztecas 13 - Now (Louis Martinez's era)
El Corona re-enlivened by gangster activity therein. After the era of Jimmy Pueblo stalled, Southside 13 re-emerged with a new jefe led by Louis Martinez and co-assisted by Lopez Escobar. They are also the same vision that aims to develop the region El Corona become more lively and also to contribute to the creation of a quality of life roleplay. Until now the baton is in the hands of Casper (call from Louis Martinez). Era of Casper is still ongoing until the entry into 2017.
Casper a.k.a Louis Martinez , he was built the gang of SSA X3 (South Side Aztecas X 3) , he was invited 5 member, and making a more criminal activity with carefully , because many police can arrest him if they caught and Casper want make a new more soldiers in El Corona, and he don't want another snitch of Hispanic on E.C , he just want the gangs to make bigger turf in E.C. Mr Joy a.k.a Jonathan Vasquez is a gangsta rapper he like singing a hip-hop rap and the type is " Mexican Hip-Hop Rap" andhe know the new gang in El Corona of South Side Aztecas X3, he interested and join , then Casper accept him. Mr Joy make a full contribution for him and then he make a groups of Hip-Hop Rap for a side job.
Chapter 1: "Del Sur Soldado"
In the 2016's, now El Corona has been dominated by a small group of Surenos 13, this generation is newly created by Casper alias Louis Martinez, before Louis had entered a huge alley Surenos in El Corona named a Surenos Locotes 13, but in the end times gang that has passed, and Louis met someone named Martinez Felipe or can be called Ipe, He was from Las Venturas and his body covered with tattoos an aztec, incidentally he was also a gangster in place called Aztecas, and they were met with a stare face two face at the SACF, They have collaborated to build a small alley in El Corona, and eventually they managed to recruit a minimum those numbers
there are now 10 members. And the name of the gang is "South Side Aztecas 13". They will also hold recruitment to maintain its barrio in El Corona that place is dominated by the alley, and finally Casper made a mission for all gang members called "Del Sur Soldado," which contains expanded the territory of El Corona to force South Side Aztecas 13 area, Casper also have a very strong soldier, which named Lopez Escobar, the person in trust by Casper to protect him and also the territory of El Corona or He's can be called a "Shoot Caller" of the gangs "South Side Aztecas 13".
Name Leader :Jacques Horvath.
Nama anggota :Dmitriy Kozlovsky.
Lambang family :Outlaws Florida[OF]
SS Rpan family :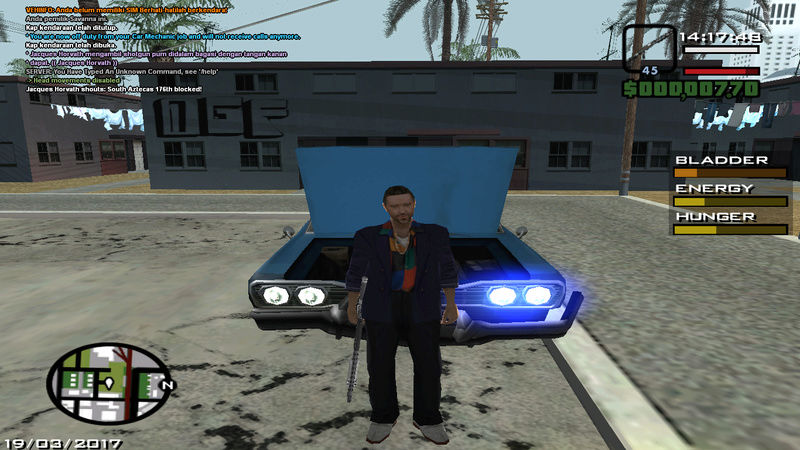 Jumlah posting

: 1


Join date

: 19.03.17



Admin




Jumlah posting

: 45


Join date

: 17.06.16


Age

: 19


Lokasi

: Palembang






Jumlah posting

: 4


Join date

: 19.03.17




---
Permissions in this forum:
Anda
tidak dapat
menjawab topik